Sylvia Cox has been rescuing and helping re-home Hungarian Vizslas for over 35 years. She has welcomed hundreds of dogs into her home for assessment and a place of refuge until the time comes for them to fly the nest and start their new lives with new loving families.
Unfortunately, for some their circumstances are such; that Sylvia is unable to re-home them and they become permanent residents at Poplar Farm.
Although the circumstances surrounding the lives of the dogs that then become unable to be re-homed are often quite sad and upsetting, do not despair as they live full lives – they have plenty of walks, delicious food and any medical care they need, along with the expert and gentle care from Sylvia 24 hours a day, 7 days a week.
We currently have 9 'end of life' dogs in our care living with Sylvia. These dogs have either had traumatic lives or simply their personalities have meant they therefore are unable to cope with the normal life of a dog.
Meet our 'End of Life Dogs'
Shelly is a wire-haired bitch and is estimated to be around 12 – 13 years old. She was found by the local dog warden dumped and in an extremely bad way. She was barely able to walk and after vet inspection she was diagnosed with multiple health problems. Shelly is such a wonderful character; she is always happy and loves attention from Sylvia. Despite being on lots of medication she has quality of life and her health issues are under control. She loves her daily walks and sitting in the sun. Unfortunately in 2016 we had to say goodbye to Shelly after she collapsed one morning – she will be sorely missed as she was such a special sole. We would like to keep her mentioned on this page as a tribute to her.
Bailey is a 7 year old male who has been with Sylvia since he was a young dog. His life before Vizsla Rescue was extremely traumatic where he was subject to physical attacks during a domestic violence and abusive relationship. After enduring such abuse the mental scars left with him mean he is extremely sensitive and if frightened will use aggression as a coping mechanism.  With this type of temperament he is not suitable or stable enough for a normal life in a family home. He does however, live a very happy life with Sylvia who he trusts and has formed a strong bond with over the years.
Kallie is a 10 year old male who has again been with Sylvia for some years. As a young dog Kallie was caged in a small space with another male dog, due to being in a confined space and through lack of correct training and exercise the two dogs would often fight. After several months of this behaviour Kallie one day bit his owner. Due to the way he was brought up, his alfa male and dominance side is very strong and he has also suffered mental damage after being locked in such a confined space for so long. He now lives a happy life with Sylvia – he adores his daily walks and could run for hours in the fields, he quite understandably likes his own space and also is a fan of a routine. Kallie sadly left us earlier this year (2018) after suffering a stroke. He managed for a few months on medication but unfortunately went downhill very quickly.
Tally & Rue are a mother and daughter who came to us last year when sadly their owner was taken ill and could no longer look after them. Tally is 13 and Rue her daughter is 11. They have no temperament issues or quirks but as they have to stay together and at their age is has been extremely hard to find them a new home. They are still both extremely active and love their walks and playtime but especially love to snuggle up together in bed.
Sadly we lost Tally in January to old age, however we are pleased to report that Rue has been adopted and now lives in her new home where she is utterly spoilt.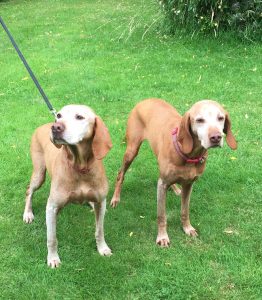 Luca is a 5 year old male who has been with Sylvia since he was 18 months old. When he was younger he was involved in a car accident where he obtained severe injuries and scars to his leg. Luckily they have healed and he has no lasting physical damage but the mental damage it has caused runs very deep.
With his original owner he was left for long periods of time in a crate/cage and not exercised or trained correctly, he became extremely unhappy with his life and one day bit a child in the house. He was brought to Sylvia who assessed him and felt happy that he was of sound mind and was able to be re-homed. He went to a lovely couple who knew his triggers and what not to do with him. As they lived in the country and travelled with their other hobbies at weekends, it meant Luca needed to travel in the car. Due to the accident at a young age we believe this is where his fear has stemmed from. However, after 9 months of trying, the travelling became too much for Luca and he unfortunately out of fear bit his owner. Luca now lives with Sylvia and like the others has a happy, exercise and routine filled life which he loves.
At the beginning of the year (2018) Luca ate an unknown object which got lodged in his intestine, after lengthy investigations and an unsuccessful operation to remove the blockage, we had to say a final goodbye to him which was devastating for Sylvia and although he wasnt easy, he was a much loved part of the gang.
Bobo is a 5 year old bitch who is extremely beautiful – everyone falls in love with her as soon as they see her, however Bobo suffers from Agoraphobia. For those who aren't familiar with this; Agoraphobia – is a type of anxiety disorder in which you fear and often avoid places or situations that might cause you to panic and make you feel trapped, helpless or embarrassed.
Bobo is with us through no fault of her owners, it is extremely sad case. One day out of the blue something in her life, potentially a noise frightened Bobo, her owners tried everything in their power to help her and carry on living a normal life. However, Bobo became very withdrawn and stopped eating. She stopped enjoying life and became very depressed.
Since living with Sylvia, we now know about her personality and we would describe her as 'OCD' she is extremely complicated and does not enjoy being outside like a normal Vizsla, she is terrified of any unknown or new noise – if she hears something slightly scary to her she would try and run away. Due to these troubles she is unable to lead a normal life and is taken care of under the close eye of Sylvia. Bobo requires her life to run exactly the same each day for her to be happy and content – it took nearly 2 years for Sylvia to gain her trust and work out a routine which meant Bobo ate again every day.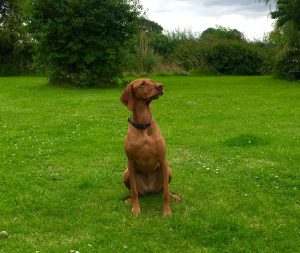 Tamsin & Tiger both wire-haired girls, are the last of our 9 'End of Life Dogs' although we don't like to think of them that way. They are a mother and daughter partnership, with Tiger the daughter being only 7 years old and she is full of nutty ginger beans! Her mum Tamsin is only 11 years old and definitely keeps up with her daughter. They have come into rescue through no fault of their own. It is with much sadness that their owner was too unwell to look after them and therefore had to make the heart breaking decision to re-home them. They are both wonderful girls and love each other's company so much, which makes it difficult to re-home them as they must go together. These are two we really hope to find forever homes for soon. Tamsin& Tiger (left & right) joined by Mac, who is still looking for his forever home.
We are delighted to report that Tamsin & Tiger have now been adopted and enjoy long walks on the beach, snuggling up by the fire on their massive cosy beds and being utterly spoilt by their new forever home!
Wonderfully, after spending nearly 2 years with Sylvia, the lovely Mac has found his forever home, where is he loved and very happy!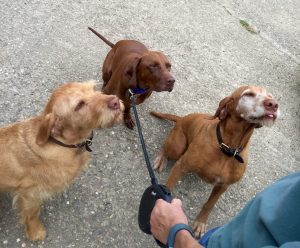 Tomas arrived with Sylvia in July 2016, age and health unknown from Spain after he was noticed on facebook by our many followers and rescued from a kill shelter. With the help of the generous Vizsla community funds were raised to bring him to the UK. Tomas had such a fab character, he knew his gun dog role very well and loved point at even the smallest feather. After being in Sylvia's care for a few short weeks it was clear he had several health issues so a trip to the vet was booked in, where it was diagnosed he had very bad teeth and a bad heart along with a few other health issues. We organised a raffle where a great amount was raised which allowed us to have Tomas' teeth operated on to make him more comfortable and his new medication was ordered.
Tomas lived an amazing 2 years with Sylvia, a lot longer than we ever thought but sadly at in April we had to say goodbye to him due to the deterioration of his health.
The start of 2018 was a traumatic and difficult time after loosing 3 of our much loved 'end of life' dogs, we know they rest happy in the knowing that in Sylvia's care they had love, exercise, warm beds, food and didn't want for anything. They are greatly missed every day and their memories will live on forever.
We do not advertise any of our dogs for re-homing as we work with each individual dog and perspective owners to ensure the perfect homes are found. The dogs mentioned above have extremely complex personalities which means they will never be re-homed and will live out their days with Sylvia.
Even though they cannot be re-homed if you would like to help them in any way, any donation big or small to go towards their vet, food and day to day life requirements would be an enormous help.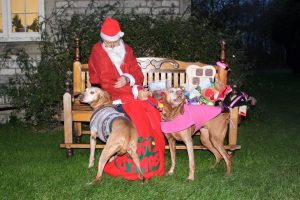 Sylvia with Tally & Rue