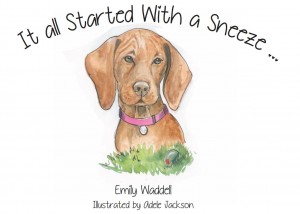 For years now I have loved writing and I have always wanted to write a Children's book.
About 2 years ago I was feeling creative so I sat down one day and wrote the words to a picture book called 'It all started with a sneeze' staring my very own Olive dog! 
Bearing in mind it was something written as a bit of fun I put the draft away and did not think very much more about it. I also needed an illustrator and as I can just about draw a stick man I did not think it would turn into much more than my scribbles. 
However, after joining Vizsla Rescue, I saw and heard first-hand the amazing work Sylvia and the others do for this breed that we all love so much and not forgetting the added financial strain that goes with it, I therefore decided to get to work turning these scribbles into a book. The plan was that I would donate all proceeds it generated to Vizsla Rescue. 
I went on the mission to find an illustrator and luckily for me Adele Jackson was just around the corner. Adele has known my mum and aunt for many years and as well as rescuing her own dog she also once knew a Vizsla so she was more than happy to help with my project. 
I took my manuscript over to Adele's house along with pictures of Olive and a few scribbled notes of my visions for illustrations and how I had imagined the book to look. I had never seen anything Adele had drawn and although I was assured her drawings were amazing, nothing could prepare me for how fantastically talented she really was. Adele showed me drawing after drawing and also Children's book illustrations she had created on a course she did in Italy a few years earlier…To put it lightly – I was blown away!
Fast forward to now and we have now completed this amazing project, with the books printed and available to buy. It has been a great journey, one that has created friendships and taught me a great deal about a new process and the willingness of people to help this fabulous breed.
The book was created as a little bit of fun and I hope you will enjoy reading it as much as I have enjoyed making it. 
Emily & Olive